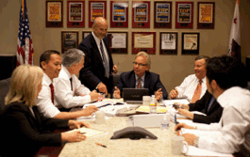 Newport Beach, California (PRWEB) June 20, 2012
The attorneys at Bisnar | Chase Personal Injury Attorneys, LLP recently obtained a $ 50,000 settlement on behalf of four of their clients. Ivn, Sheryl, Mar, and Ner suffered serious injuries in a 2009 auto collision. Shortly after, they contracted the Bisnar | Chase law firm who began pursuing compensation from 21st Century Insurance. The $ 50,000 could be only one portion of the total amount received as it was a settlement dismissing future action solely pertaining to the UIM coverage.
UIM coverage stands for uninsured, or underinsured, motorist coverage. Many auto insurers offer UIM coverage, which can reimburse car accident victims for medical expenses under special circumstances.
Victims that suffer injuries as a result of an auto collision in which the other driver is legally responsible as well as underinsured or uninsured would only be covered for their medical expenses if they purchase UIM coverage.
According to the Insurance Research Council, one in seven drivers is uninsured. Although New Hampshire is the only state in the nation that does not require drivers to purchase auto insurance, a significant number of drivers throughout the U.S. are ignoring their state laws and putting others at risk.
According to the National Association of Insurance Commissioners, nearly 10.8 billion dollars in costs were incurred by uninsured drivers in 2007, and those who were insured were left with the bill.
John Bisnar, managing partner of Bisnar | Chase, says that, uninsured motorist coverage may be the most important form of insurance one can obtain. A shocking number of uninsured or underinsured California drivers are on the road, and if they become responsible for your catastrophic injuries, you may be paying your medical expenses out of your own pocket.
Sheryl, Mar, Ner, and Ivn were fortunate enough to have had the opportunity to obtain compensation through their UIM coverage, but many accident victims realize after the fact how vital this coverage can be. We recommend that all of our clients obtain UIM coverage to protect themselves from these types of worst case scenarios.