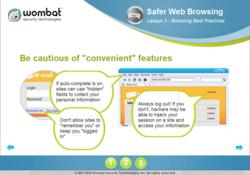 Pittsburgh, PA (PRWEB) July 10, 2012
Wombat Security Technologies (Wombat), a leading provider of cyber security awareness and training solutions, today announced the release of its new Safer Web Browsing training module to defend against the most up-to-date risks associated with Internet browsing in the enterprise. As with all its modules, Wombats Safer Web Browsing training module addresses important enterprise security risks by targeting securitys potential weakest link, the employee. The Safer Web Browsing security training module leverages Wombats proven learning techniques and provides users with practical advice in a software-based training session that takes less than 10 minutes. This new addition to the Companys Security Training Platform helps organizations strengthen their users knowledge and defense against cyber-attack.
In nearly 30 studies over 5 years, Aberdeens research has consistently shown that the leading performers were 70% more likely on average then lagging performers to invest in security awareness and education for their end-users, commented Derek Brink, vice president and research fellow for IT Security and IT GRC at Aberdeen Group, a Harte-Hanks Company. Too often, enterprise investments in technologies are diluted by lack of investment in their people, but the top performers invest proactively in end-user awareness and training as a means to make their end-users informed, accountable and productive.
Wombats new Safer Web Browsing training module explains the risks and teaches the key concepts of safer browsing to employees, including how to: